We are thrilled to share exciting news that truly reflects our team's dedication and hard work – Supplysoft has been awarded the prestigious Partner of the Year Award 2022 by Körber, a global leader in supply chain solutions. This recognition is a testament to our commitment to innovation, collaboration, and driving excellence in the supply chain domain.
Receiving the Partner of the Year Award is not just an honor; it's a collective achievement that every member of the Supplysoft family can take pride in. Our journey to optimize supply chain management and enhance operational efficiency has been an inspiring one, and this award reaffirms our efforts to push boundaries and fuel growth.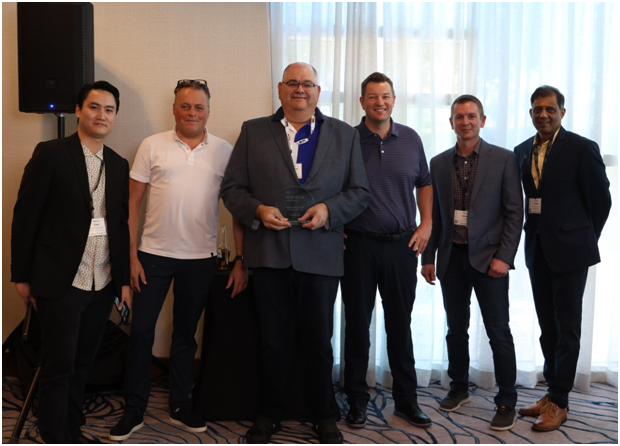 Supplysoft Solutions Architect, David Harowitz seen center, accepts the Partner of the Year award at the Elevate Americas conference held March of 2023 in Orlando, Florida.
This accomplishment underscores the strength of our partnership with Körber. Together, we have harnessed our collective expertise and shared values to create impactful solutions that address real-world challenges in supply chain management. This recognition is a testament to our joint commitment to delivering value and exceeding expectations.
As we celebrate our accomplishment, we look to the future with excitement. The Partner of the Year award isn't just a milestone; it's a beacon that guides us towards new horizons. With the fusion of Supplysoft's innovation and Körber's cutting-edge solutions, we're poised to shape the future of supply chain management in even more transformative ways.
None of this would have been possible without the unwavering dedication and passion of each member of our Supplysoft team. This award belongs to each of us, and we extend our sincere gratitude for your tireless pursuit of excellence. Your commitment to innovation, collaboration, and delivering outstanding solutions has brought us to this remarkable achievement.
As we proudly showcase the Partner of the Year Award 2022 from Körber, let it serve as a reminder of our shared commitment to excellence and innovation. This accomplishment not only celebrates our past achievements but also sets the stage for the remarkable journey ahead. Let's continue to aim high, embrace challenges, and create solutions that make a lasting impact on the world of supply chain management.
Thank you for being an integral part of this journey.
Warm regards,
The Supplysoft Team